Description
The same performance fabric, but with an updated simplified design. GRIP 2.0 delivers true high performance moisture transport with the comfort of soft cotton. Made of a quick-drying fabric that dries 5x faster than regular cotton, you'll stay dry and comfortable throughout your athletic activities. The pouch was redesigned for a streamlined, smoother look and feel.

Brief style underwear (punt brief)
Mid-rise, sits at the natural waistline
Hybrid design of a square cut trunk and a classic brief
C-IN2's contour pouch designed for extra comfort and support
A special treatment to the cotton on the inner layer of the fabric allows for sweat to be transferred in one direction to the outside of the garment
Surface texture on the fabric aids rapid drying process
Covered elastic around leg openings for a secure and comfortable fit
Exposed, elastic waistband with logo
Available in limited seasonal colors
Waistband width: 1.5 in.
94% Cotton, 6% Elastane
Machine Wash
Imported
Size Chart
Check our Size Guide if you need help with sizing.
Shipping Information
PLEASE NOTE:
For expedited shipments, order before 2 pm ET Mon – Friday (excluding holidays) for true 2-day or next-day service.

Our warehouse is able to get shipments out on time, but expect delays in delivery from carriers for domestic and especially international orders. Please, allow extra time to receive your packages.

If you have any questions about your order, leave us a message or send us an email to help@c-in2.com.

Thank you,

C-IN2 Team


If your package is returned to us because it was unclaimed, undeliverable, rejected, or refused, then we will refund you for the order minus the original shipping fee and a 10% restocking fee.

C-IN2 reserves the right to cancel your order.

FREE U.S. SHIPPING FOR ORDERS OVER $99
C-IN2 offers free Domestic Standard shipping to all states within the United States for orders over $99. Otherwise, Domestic Standard shipping costs just $4.95.

Please, check out our shipping page for all our shipping rates: C-IN2 Shipping Methods
Get free US shipping for orders over $99
SKU: 3964-001S-XS
Customer Reviews
Write a Review
Ask a Question
03/13/2022
Thomas B.

United States
I recommend this product
Great briefs
The fabric is soft and maintains its shape. The only thing to watch out for is the Grip 2.0 brief sizing is different than the other collections, so you'll find yourself with incorrect fit if you don't get the right size.
02/21/2022
Daniele R.

United States
02/20/2022
Daniele

United States
01/07/2022
Anonymous

United States
I recommend this product
Great look and feel
Love the look and feel of these briefs. They're stylishly austere. My 'boys' feel really good in them too, whether I'm wearing them casually at home or work, or working up a sweat at the gym. I'll definitely buy more and in different colors.
12/13/2021
Anonymous

United States
Keep your filthy paws off my silky drawers!
Brooke Shields famously once said, "Nothing comes between me & my Calvins," but if she were a dude & C-IN2 had existed back then…she may have felt differently. My junk absolutely hates being confined all day, but these drawers are comfortable enough for all-day wear w/o causing beef between me 'n' my buddy AND they're sexy AF. What more do you want?
11/06/2021
Anonymous

United States
I recommend this product
Fit too small in rear
Slides off my butt
10/22/2021
Anonymous

United States
I recommend this product
I feel cute when I wear them :-) The pouch is a bit tight, however.
10/07/2021
Greg

United States
I recommend this product
Love These!
I was very surprised by this pair. I was on the fence but was looking for briefs specifically for the gym but didn't want the to be super tight. The fabric feels light and thin but also sturdy and high quality. The fit is just how I like it, covers enough in the back and hip, hits right at my waist and has a supportive yet roomy pouch. The waistband also is light and thin but also sturdy and feels high quality. Even though I bought them for the gym they would be great as everyday wear, especially in warm climates. Hope they have more colors soon!
08/17/2021
Steven L.

Australia
Inconsistent sizes
The actual product is fine, however the inconsistent sizes between different sizes is infuriating. I got two different sizes in XL. One is more the size of a large, and the other is absolutely huge! There is a 4" difference in the waistband size between the two products labelled XL. Why can't one manufacturer ensure a consistent size measurement across the range?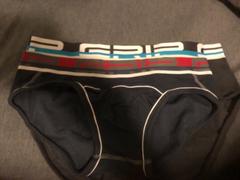 05/27/2021
Daniele

United States
05/22/2021
Victor R.

United States
I recommend this product
Nice fit great look
The quality and texture of the fabric is fantastic, keeps you cool and dry. It fits perfect and enhances your bulge. Great buy!!!
05/11/2021
David E.

United States
04/28/2021
Daniele R.

United States
I recommend this product
Outstanding comfort
It feels outstanding against the skin, moves with you and great support.
04/11/2021
John

United States
I recommend this product
Put 'em on and forget about 'em
Down here in Louisiana, it gets HOTTT during our 6+ months of summer. So, I thought I'd try briefs. I haven't worn briefs since high school. I usually wear trunks & boxer briefs, but they can be too much when the temp. & humidity both cross 90. I wear the GRIP & Zen trunks. They're GREAT!! I'd tried the GRIP 1.0 briefs, and they were OK. They just don't fit me quite right. I gave these GRIP 2.0 briefs a chance cause they were on sale. I've got a 35" waist and bought the XL just to gimme a little more room. They're perfect. Material is breezy enuff yet supportive. They cover and don't ride. I don't need to adjust 'em ever. Just put 'em on and forget about 'em. Thanks again C-IN2 another great pair of underwear.
03/19/2021
John M.

United States
Excellent fabric but only good design
The cotton fabric is very comfortable and breathable; it may be my new favorite underwear fabric. It also benefits from not being slick; everything stays comfortable and in place. The Mid Rise brief does run large, though; while most "mid rise" briefs stay put just fine, I found these wanted to slide down just a little instead of staying snug. I'm not a big fan of the center-seam pouch that seemingly every manufacturer uses, though it gets points for having only one layer of fabric to prevent sweat build-up. The exposed seam, though, is a weakness, with a potential to fray on pants and cause slight occasional discomfort while wearing. (I barely felt this seam, but it would be even better if it weren't there.)
02/15/2021
Anonymous

United States
I recommend this product
Great Briefs
These briefs are super comfortable, and have great support. Great for all day wear.